<![endif]-->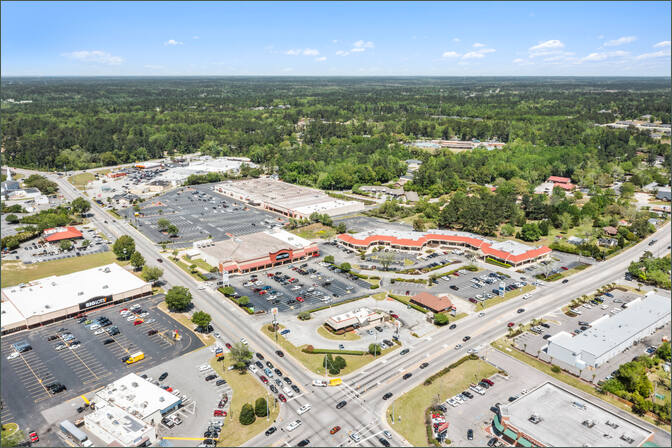 Grove Park Shopping Center
1345 - 1370 Chestnut Street
Orangeburg, SC 29115

26,100 AADT on Chestnut Street
21,300 AADT on St. Matthews Road
Grove Park is strategically positioned in the heart of Orangeburg at the intersection of Chestnut and St. Matthews. The center has great visibility and a diverse tenant mix.
2014 Capital Improvements included parking lot, facade, pylon and lighting upgrades.
Demographics
| | 1 Mile | 3 Mile | 5 Mile |
| --- | --- | --- | --- |
| Population | 5,802 | 25,927 | 36,856 |
| Households | 2,460 | 9,836 | 13,923 |
| Avg HH Income ($) | 49,284 | 49,804 | 50,882 |
| Med HH Income ($) | 32,008 | 34,132 | 35,110 |
| Median Age | 37 | 34 | 36 |
Highlights
For Lease
County: Orangeburg
Type: Retail
Total SF: 106,557

Sr. Leasing Manager
Kevin Conway
2529 Virginia Beach Blvd.
Virginia Beach, VA 23452
p. (757) 627-9088
c. (757) 618-5932
f. (757) 627-9081

Sr. Property Manager
Sarah Spiceland
2529 Virginia Beach Blvd.
Virginia Beach, VA 23452
p. (757) 627-9088
c. (757) 268-2393
f. (757) 627-9081

Grove Park Shopping Center
| | |
| --- | --- |
| Available | Coming Available |
Current Tenants
100
Food Lion
41,600 SF
101
The Palms
8,326 SF
103A
The Palms (storage)
650 SF
104A
Grove Park Pharmacy
104C
Unavailable Space
3,482 SF
105A
Unavailable Space
3,810 SF
105B
Unavailable Space
6,000 SF
106
Grove Park Pharmacy
3,450 SF
112
Grove Park Pharmacy
4,301 SF
201
Beauty Line 4
6,206 SF
202
Credit Central
1,695 SF
204
Creston Dental & Braces
8,541 SF
204A
Dime's Personal Touch
524 SF
206
Republic Finance
1,260 SF
208
Tokyo Steak & Seafood
5,008 SF
209
Tutoring Center
1,000 SF
210
70 East Tobacco
1,600 SF
212
Grove Park Pharmacy
9,104 SF
Grove Park Shopping Center