<![endif]-->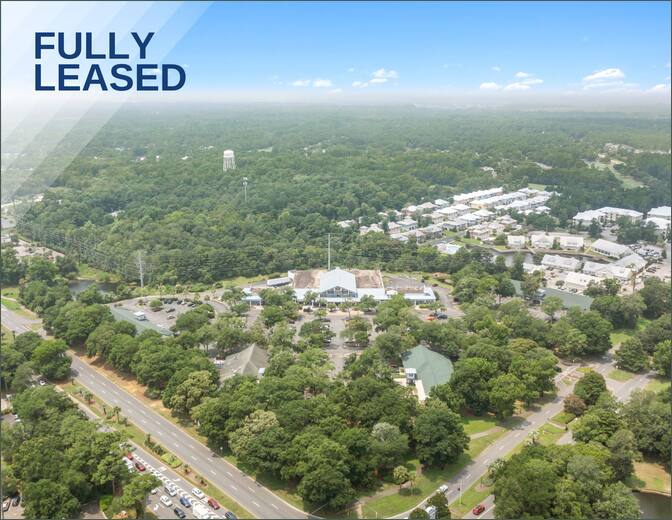 Litchfield Market Village
115 Willbrook Blvd
Pawleys Island, SC 29585

Anchored by Food Lion on Highway 17, the highly trafficked and main commercial thoroughfare along the Atlantic Ocean.
Additional tenants include Pawley's Island Pharmacy, Edward Jones, Eggs Up Grill, Massey's Pizza, and Anytime Fitness.
36,100 AADT on Ocean Highway (US Highway 17).
The property is located in the Willbrook Plantation, comprised of both single family homes and condominiums, and caters to the large tourist and year-round resident population.
Opposite Highway 17 from the property is Litchfield By The Sea, a large vacation condominium development with more than 1,200 units.
Known as one of the oldest resorts in America as well as its carefree, laid-back lifestyle, Pawleys Island, SC has a leisurely existence that has remained legendary.
Demographics
| | 1 Mile | 3 Miles | 5 Miles |
| --- | --- | --- | --- |
| Population | 2,406 | 7,850 | 15,389 |
| Households | 1,203 | 3,776 | 7,218 |
| Avg HH Income ($) | 113,182 | 112,138 | 100,274 |
| Med HH Income ($) | 76,553 | 74,504 | 64,595 |
| Median Age | 65 | 62 | 59 |
Highlights
For Lease
County: Georgetown County
Type: Retail
Total SF: 86,740

Sr. Leasing Manager
Kevin Conway
2529 Virginia Beach Blvd.
Virginia Beach, VA 23452
p. (757) 627-9088
c. (757) 618-5932
f. (757) 627-9081

Sr. Property Manager
Madonna McAdam
2529 Virginia Beach Blvd.
Virginia Beach, VA 23452
p. (757) 627-9088
c. (757) 799-6849
f. (757) 627-9081

Litchfield Market Village
| | |
| --- | --- |
| Available | Coming Available |
Available Spaces
D
1,200 SF
E
1,200 SF
SLIE
1,420 SF
Current Tenants
| | | |
| --- | --- | --- |
| A & B | Pawleys Island Pharmacy | 2,400 SF |
| Anchor | Food Lion | 35,300 SF |
| C | China Wok | 1,200 SF |
| F | Lovely Nails | 1,200 SF |
| G | Litchfield Wine & Liquors | 1,200 SF |
| H & I | Lowcountry Vision Care | 3,600 SF |
| K & L | Eggs Up Grill | 2,955 SF |
| M | Eggs Up Grill | 1,240 SF |
| N | Seaside Framing & Photography | 1,240 SF |
| O & P | Massey's Pizza | 2,285 SF |
| Q | This & That | 1,895 SF |
| R | Salty Paws Pet Spa | 1,060 SF |
| S | Acentria Insurance | 1,240 SF |
| SLIA-D | Anytime Fitness | 5,385 SF |
| SLIF&G | The Doc House | 2,400 SF |
| SLIH&I | Low Country Bagels & Cafe | 2,795 SF |
| SLIIA&B | Palmetto Infusion Services | 3,000 SF |
| SLIIC | The Oasis | 1,200 SF |
| SLIID | Smoke & Roll | 1,200 SF |
| SLIIE&F | Angel Restaurant & Bar | 2,400 SF |
| SLIIG&H | Teakwoods Bar vs. Grill | 4,200 SF |
| T | Edward Jones | 1,240 SF |
| U | Sand + Sea | 1,240 SF |
| V | Classic Image | 1,045 SF |
Litchfield Market Village