<![endif]-->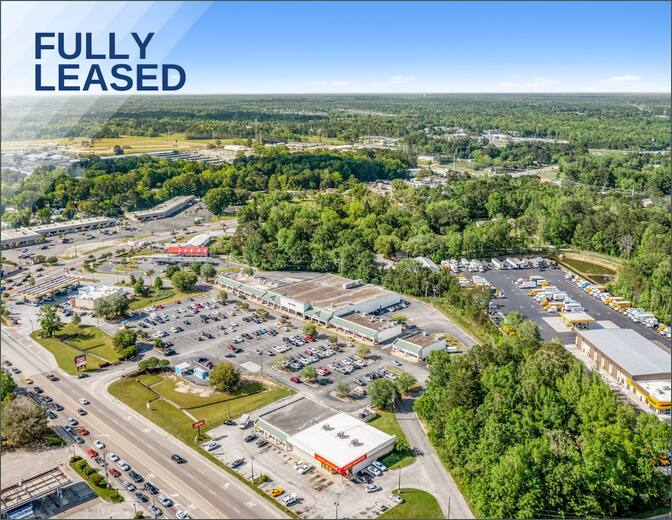 Ladson Crossing Shopping Center
9616 Highway 78
Ladson, SC 29456

36,900 AADT on US Highway 78
Ladson Crossing sees steady traffic flows as commuters travel between the residential suburbs of Ladson, Summerville, and the Charleston employments areas.
This center also benefits from it's close proximity to Charleston Southern University with a current student enrollment of 3,596.
The property's trade area consists of Ladson, the southern part of Summerville and the surrounding neighborhoods. The area is a suburb of Charleston and is experiencing unprecedented population growth due to the influx of jobs in the area related to the operation and expansion of the nearby Boeing manufacturing plant, as well as the Mercedes-Benz Sprinter van and Volvo plants which are scheduled to begin construction this year.
Demographics
| | 1 Mile | 3 Miles | 5 Miles |
| --- | --- | --- | --- |
| Population | 2,690 | 58,927 | 182,531 |
| Households | 1,042 | 21,565 | 68,659 |
| Avg HH Income ($) | 72,647 | 81,078 | 78,551 |
| Med HH Income ($) | 53,359 | 66,549 | 63,657 |
| Median Age | 32 | 34 | 35 |
Highlights
For Lease
County: Charleston
Type: Retail
Total SF: 52,607
Acres: 9.83
Year Built: 2000

Sr. Leasing Manager
Kevin Conway
2529 Virginia Beach Blvd.
Virginia Beach, VA 23452
p. (757) 627-9088
c. (757) 618-5932
f. (757) 627-9081

Sr. Property Manager
Madonna McAdam
2529 Virginia Beach Blvd.
Virginia Beach, VA 23452
p. (757) 627-9088
c. (757) 799-6849
f. (757) 627-9081

Ladson Crossing Shopping Center
| | |
| --- | --- |
| Available | Coming Available |
Current Tenants
| | | |
| --- | --- | --- |
| 1 | Little Caesars | 1,500 SF |
| 2 | D'Moda | 1,200 SF |
| 3 | Naturally LOC'D | 1,200 SF |
| 4 | Barbers Inc. | 1,200 SF |
| 5 | China Chef | 1,200 SF |
| 6 & 7 | Sunny's Beauty Supply | 2,400 SF |
| 8 | L.A. Nail Studio | 1,200 SF |
| 9 | Palmetto Wine & Spirits | 1,200 SF |
| 10 | LP Communications of SC | 1,200 SF |
| 11 & 12 | Nigel's Good Food | 2,400 SF |
| 13 | Slaughterhouse BBQ | 1,500 SF |
| 14 | Planet Vape & Tobacco | 1,500 SF |
| 15 | ACR Training Center | 1,500 SF |
| Anchor | Piggly Wiggly | 33,407 SF |
Ladson Crossing Shopping Center