<![endif]-->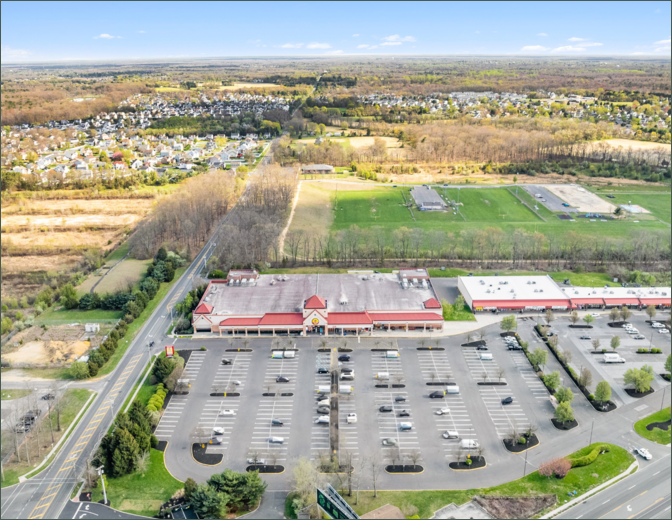 Winslow Plaza
542 Berlin Cross Keys Road
Sicklerville, NJ 8081

30,319 AADT on Berlin Cross Keys Road
Winslow Plaza is shadow-anchored by a high-volume ShopRite, which brings high traffic to the center.
Neighboring retailers, such as Target and Lowe's, attract a regional customer base.
The center has excellent visibility and access from both Berlin Cross Keys Road and Chews Landing Road.
Demographics
| | 1 Mile | 3 Mile | 5 Mile |
| --- | --- | --- | --- |
| Population | 7,956 | 60,289 | 151,463 |
| Households | 2,461 | 21,450 | 55,186 |
| Avg HH Income ($) | 120,550 | 106,555 | 100,846 |
| Med HH Income ($) | 104,789 | 87,756 | 80,661 |
| Median Age | 36 | 39 | 39 |
Highlights
For Lease
County: Camden
Type: Retail
Total SF: 40,695

Leasing Associate
Raymond Hicks
2529 Virginia Beach Boulevard
Virginia Beach, VA 23452
p. 757-627-9088
c. 757-434-1168
f. 757-627-9081

Sr. Property Manager
Madonna McAdam
p. 757-799-6849

Winslow Plaza
| | |
| --- | --- |
| Available | Coming Available |
Current Tenants
| | | |
| --- | --- | --- |
| 1 | Nova Care | 2,400 SF |
| 3 | The UPS Store | 1,200 SF |
| 4 | We Buy Gold | 1,200 SF |
| 5 | Soul Boat | 1,200 SF |
| 6 | Allstate | 1,200 SF |
| 7 | Winslow Cigars, Tobacco & Vapors | 1,200 SF |
| 8 | H&R Block | 1,200 SF |
| 9 | King's Wok | 1,200 SF |
| 10 | Texas Fried Chicken and Pizza | 1,200 SF |
| 11 | Mr. Suds | 2,400 SF |
| 13 | Nail Lounge | 1,800 SF |
| 14 | Winslow Cleaners | 1,800 SF |
| 15 | Cutting Times | 1,800 SF |
| 16 | Love 2 Dance Academy | 1,695 SF |
| 17 | Soltz Paint (Benjamin Moore) | 4,800 SF |
| 18 | Sunshine Beauty | 4,800 SF |
| 19 | King's Liquor | 9,600 SF |
Winslow Plaza